The car wash sprayer with soap dispenser and car wash hose nozzle has 8 spray patterns. New design technology can concentrate water pressure at a point, spray distance up to 6-10 meters. Moreover, the car wash foam sprayer gun has 8 types of spouts, which can spout water in 8 patterns for different uses, and the spray nozzle for the garden hose fulfills your different needs—such as washing cars and showering pets.
Description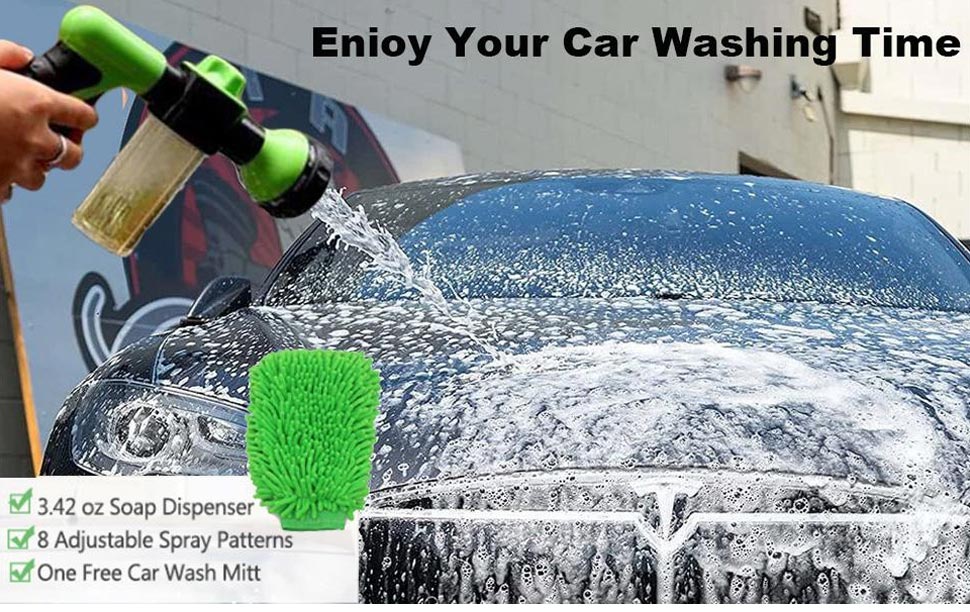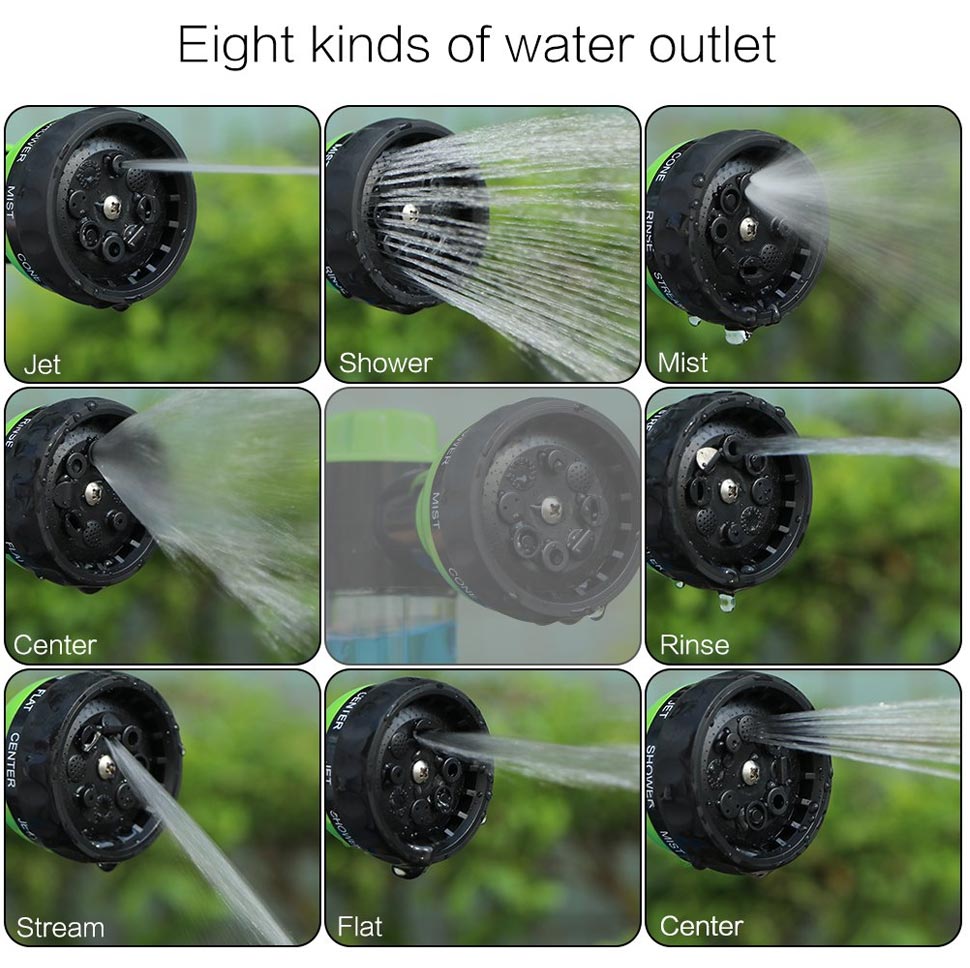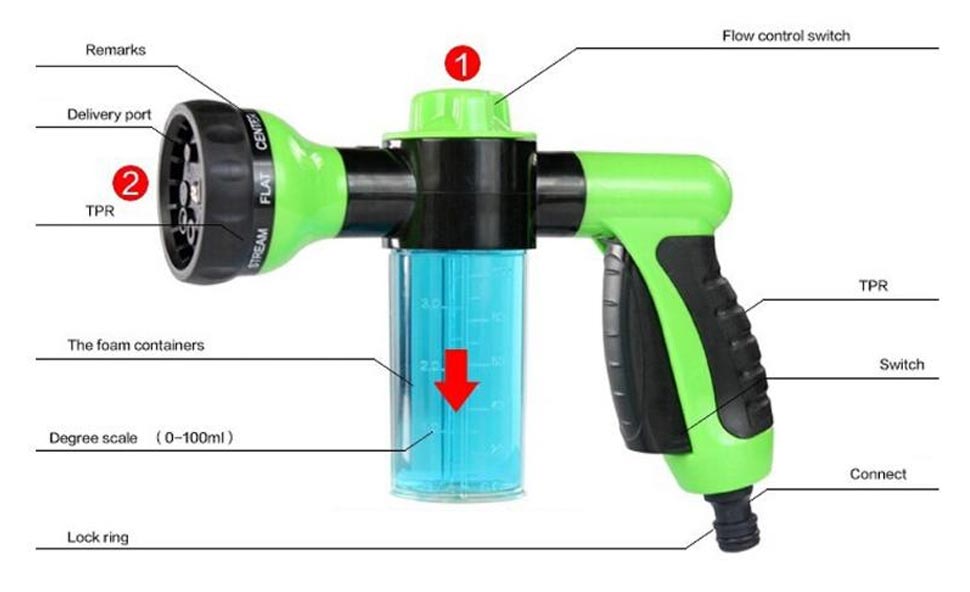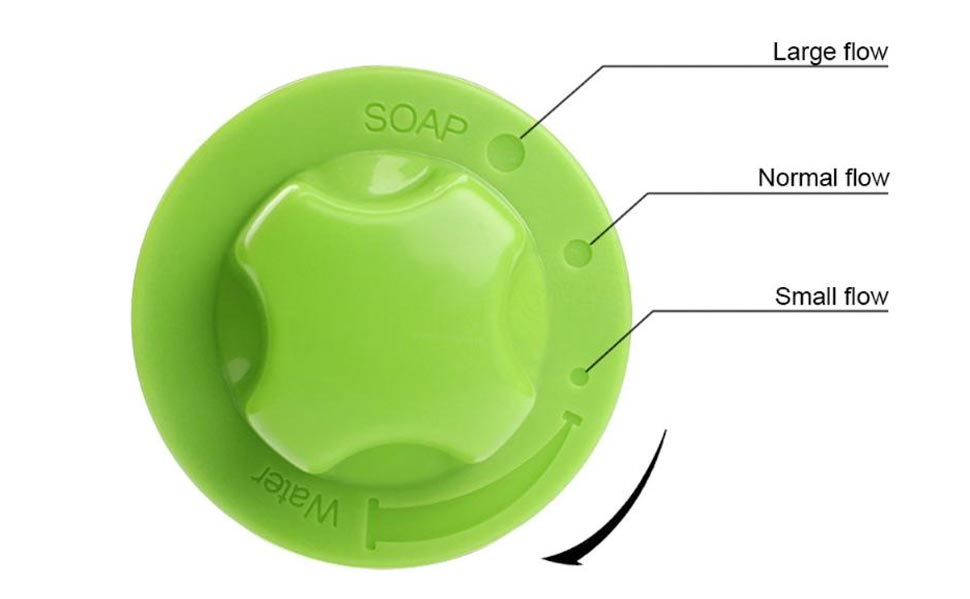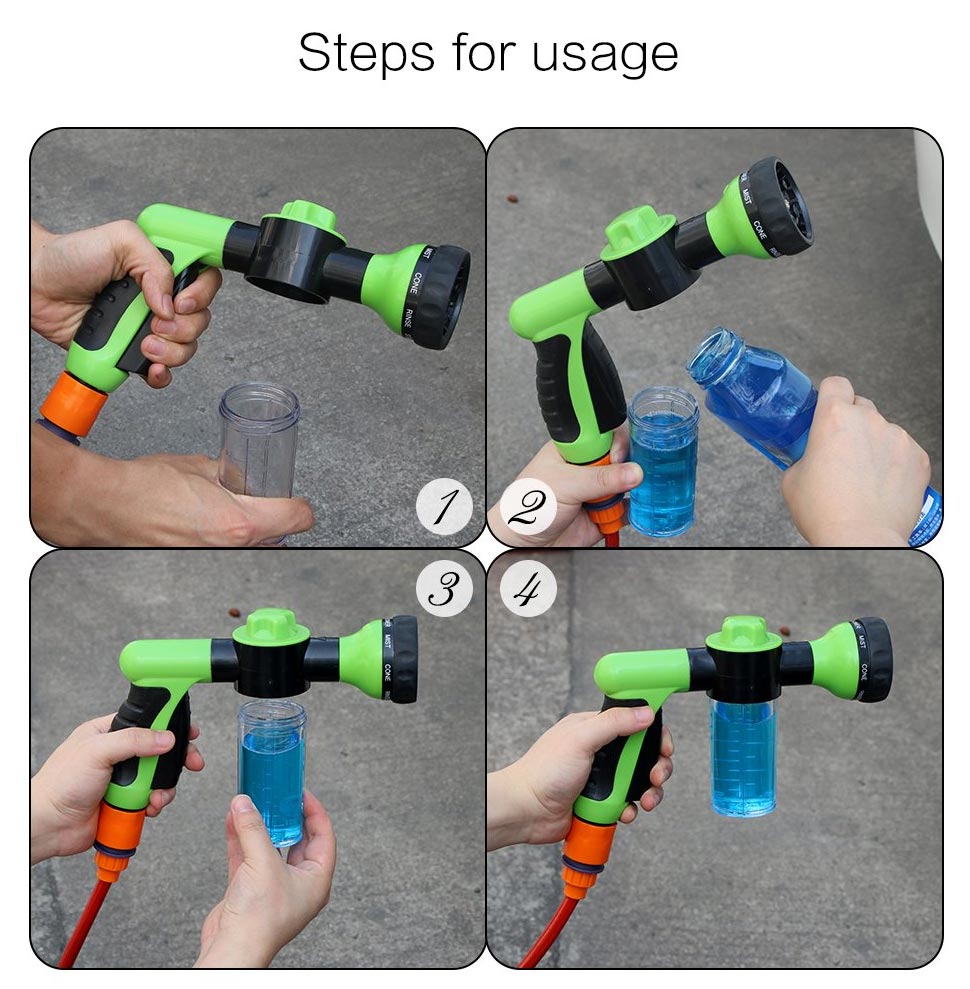 9 reviews for
Car Wash Sprayer with Soap Dispenser
---
0 Customer(s) recommended this item
Reviewed by 09 customer(s)
It has a big handle and easy to grab. It can change the water flow in different styles.
When I first got it, I was not sure if it will fit my hose. Eventually I detached the bottom part to fit my hose. It was a bit tight to unscrew the bottom. The knob for switching between soap and water is also tight. I used a screwdriver to make it a bit loose. Now everything works fine. I can wash my car very easily now. The wash mitt is also great!

I really like this hose nozzle. I've used it so far for cleaning gutters, cars, and lawn furniture and it worked great on all those. It's easy to figure out how to use, and I've had no problem inserting and removing this from the hose. I love having the bottle that I can add a cleaning solution to which makes this even more valuable. I'm very happy with this purchase and would most definitely purchase again!

It is easy to hookup to our garden hoses. No leaking. It has pretty strong water pressure. All parts seems sturdy and durable. The build-in soap dispenser works well that I just put the detergent into the bottle snd adjust the amount of foam by the rotary switch. The microfiber mitt is very soft and super absorbent. It makes car wash so easy and convenient.

I purchase this product for washing my two thick coated golden retrievers. while it works really well and has great water pressure, it goes through a LOT of shampoo so I'm constantly having to refill the soap dispenser and I use about a half of a medium sized bottle of shampoo just washing my two dogs That's how much shampoo it uses. Even on the lowest setting I find it still dispenses a lot more shampoo than I need. Which is not efficient when you use top of the line shampoo.
Also the lever starts to get sticky and not lock after a few uses so you have to hold it down.

It pretty basic plastic build sprayer head with soap dispenser. It is for sure not for high pressure washer, it just has a quick connect screwed in (which is not high pressure). I removed the quick connect and used one from the system I'm using. You can also just remove the quick connect and attach it directly to your hose. I needed a sprayer for liquid fertilizer. It works and you can set the ratio but it still uses a lot even on lowest setting (just dilute it prior). Using it for car wash (microfiber glove included) should be ok as well, if you use concentrate just dilute it a bit more before filling it in the soap bottle. For my purposes I'm ok with the low price and what I got for. If you need one which can mix super accurate you need to pay 3 times the price and choose another professional one.
Please
login
to post questions
Question:

Is foam washing a car better?

IVOOE-JO
25-Oct-2022

Answer:

Well, if you use foam you get more contact time on your car – the soap stays in contact for longer, creating better results.

Question:

Are foam guns worth it?

IVOOE-JO
25-Oct-2022

Answer:

Using a foam gun as a form of pre-washing a car is a fantastic way of getting a base layer of suds applied in a very short period of time.

Question:

Does foam spray car wash work?

IVOOE-JO
25-Oct-2022

Answer:

Snow foam is an essential pre-wash, improving car wash results and keeping your finish brighter for longer.

Question:

Can you use any car wash in a foam gun?

IVOOE-JO
25-Oct-2022

Answer:

All Chemical Guys soaps except Rinse Free are engineered for use with a foam cannon or foam gun.

Question:

What do you put in a car foam sprayer?

IVOOE-JO
25-Oct-2022

Answer:

Put 3 to 4 ounces of foam soap into your Foam Cannon reservoir, and fill the rest with water. Shake well to mix the soap into the water.

Question:

Which is better foam gun or foam cannon?

IVOOE-JO
25-Oct-2022

Answer:

Whereas a Foam Cannon will lay down a thick shaving-cream-like layer of white foam over the entire surface, the Foam Gun with a water hose simply does not have enough water pressure to create such a thick foam, but it will still cover the surface in thick suds to help loosen and lift dirt more easily.

Question:

Does snow foam actually work?

IVOOE-JO
25-Oct-2022

Answer:

Snow foam helps your car washing routine by partially breaking down dirt on your car's paintwork, wheels, and other surfaces, making it much easier for your regular car shampoo to finish the job.

Question:

How long does snow foam last car?

IVOOE-JO
25-Oct-2022

Answer:

You simply spray the car until it's coated in foam, leave it for five-minutes, then return to rinse it all off with the regular lance back on your pressure washer.

Question:

What is the best way to wash your car?

IVOOE-JO
25-Oct-2022

Answer:

Use a hose without a nozzle and let the water flow over the car from top to bottom.