Top 6 Reasons to Choose OBD2 Engine Scanner FOXWELL NT301:
1. Supports All OBDII functions, turn off check engine light, reset monitor, read enhanced data etc.
2. Support Multi-languages; works with All 12V standard obd2 protocols vehicles.
3. User-friendly Design,I/M Hot keys and 2.8" color screen.
4. Emission Test Helper, Red-Yellow-Green LEDs, and build-in speaker indicate emission monitor status.
5. No battery required, it is charged directly from the OBDII car scanner interface in your vehicle( just need to turn on the ignition of your vehicle).
6. Lifetime free upgrade online via USB cable.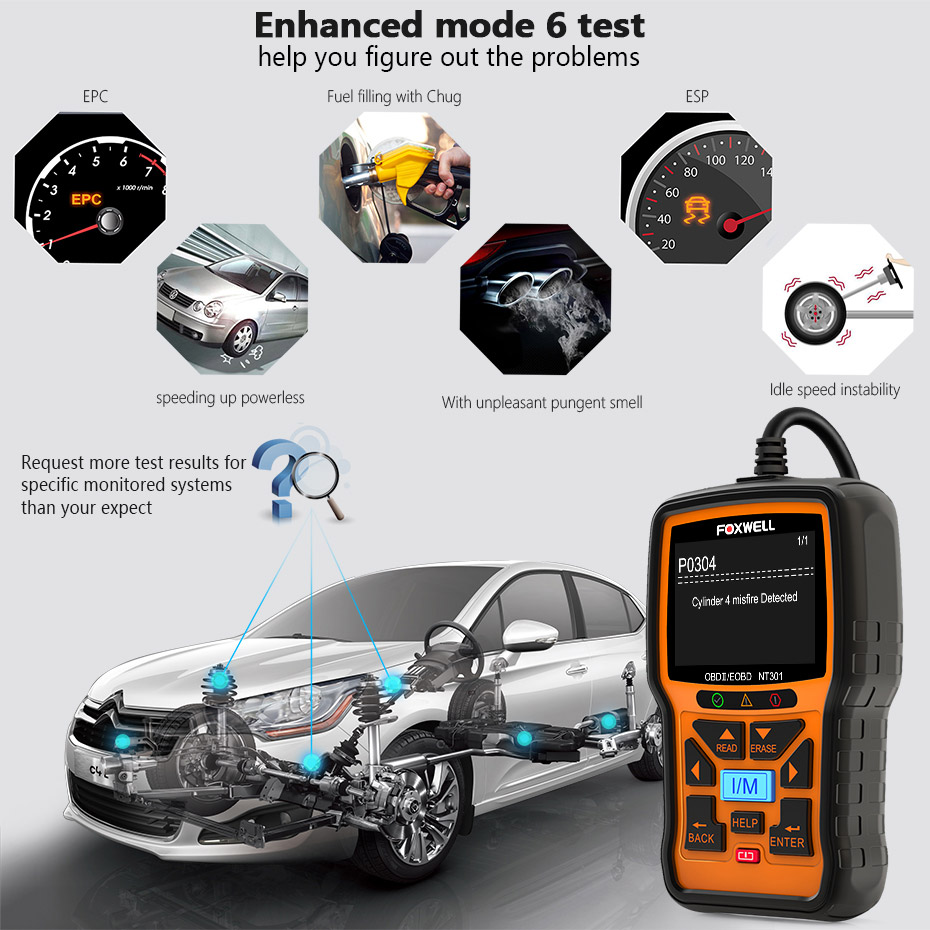 NT301 obd2 scan tool can not only read and clear engine fault codes, save money for you, but also have some enhanced functions which could help you find some deep problems so that makes your diagnosis easier. In addition, it's 2.8″ TFT color screen and hot keys for I/M readiness test.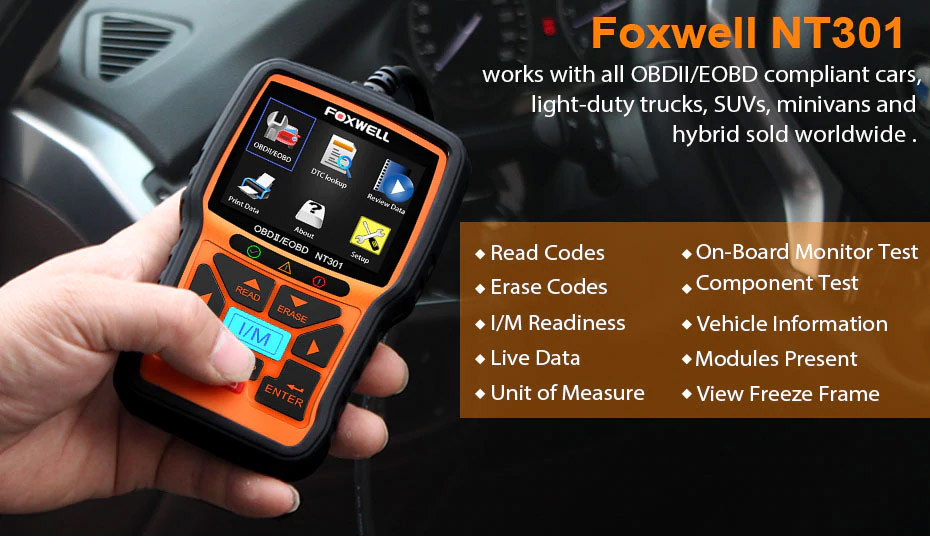 OBD2 Automotive Scanner FOXWELL NT301 Three Languages Version for Choose:
language version 1: English, Spanish, French, German, Italian
language version 2: English, Portuguese, Hungarian, Dutch, Swedish
language version 3: English, Russian
You can choose one of the language version, thanks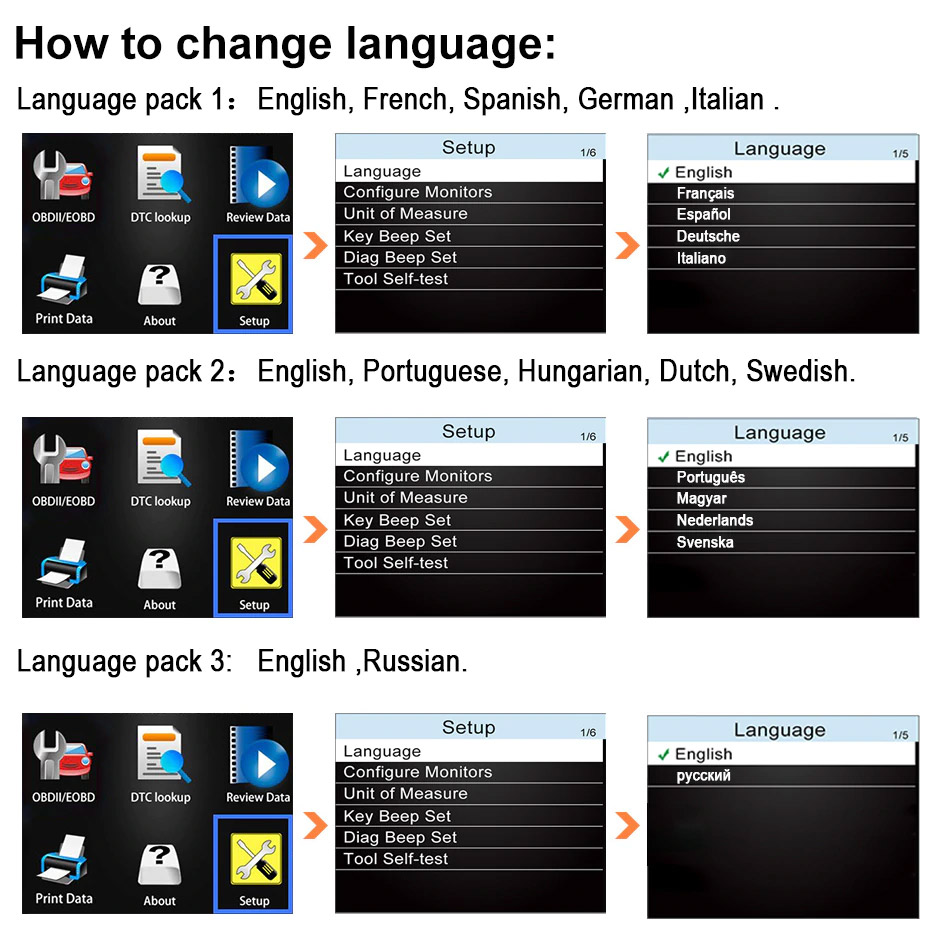 Foxwell NT301 support English French Spanish German user manual download it online, in the package, all of our user manuals are English.

FOXWELL NT301 OBD OBD2 Scanner Support Functions:
1. Read Codes: Generic, Manufacturer Specific, and Pending Codes
2. Clears Codes, Turns off Check Engine Light (MIL) and Reset monitors
3. Live Data ,Reads, records, graphs & playbacks(data logging) live sensor data
4. DTC definition can be automatically displayed after reading
5. View Freeze Frame which shows engine conditions such as fuel trim, engine coolant temp, etc. at the time the Malfunction Indicator Lamp(NIL) was set
6. I/M readiness one-click hot keys for reading/clearing DTCs
7. Reads live O2 sensor
8. On-board Monitor Test
9. Component Test
10. Retrieves Vehicle information (VIN, CID, and CVN)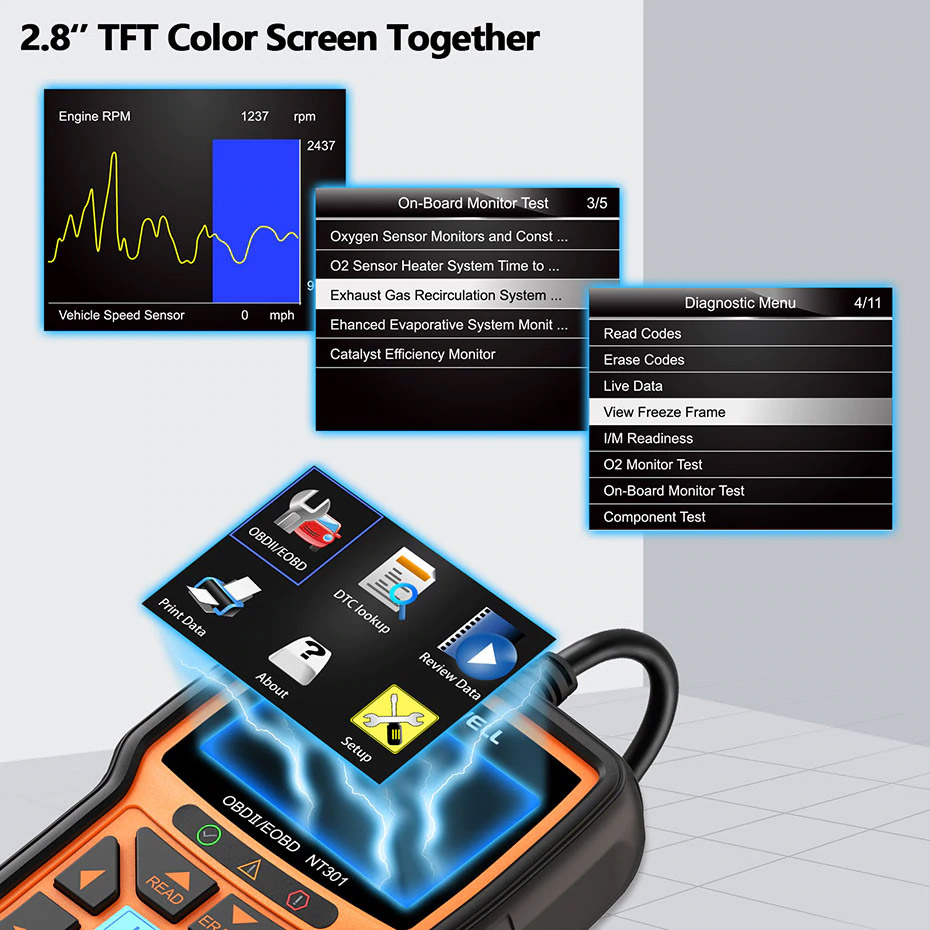 Turn Off "Check Engine" Light
Parts might cause your check engine light on include:
1. Gas Cap 2. Oxygen Sensor 3. Air Fuel Ratio Sensor 4. Mass Air Flow Sensor 5. Ignition Coils 6. Spark Plug Wires 7. Spark Plugs 8. Thermostat 9. EGR Valve 10. Evaporative Emission Canister Purge Valve(EVAP) 11. Catalytic Converter.

Build-in DTC Lookup
It is used to search for code definition, saves your time to search online.

LED Notifications
Red-Yellow-Green LEDs and build-in speaker indicate emissions monitor status. This diagnostic tool can also help catch intermittent problems or confirm repairs during a drive cycle.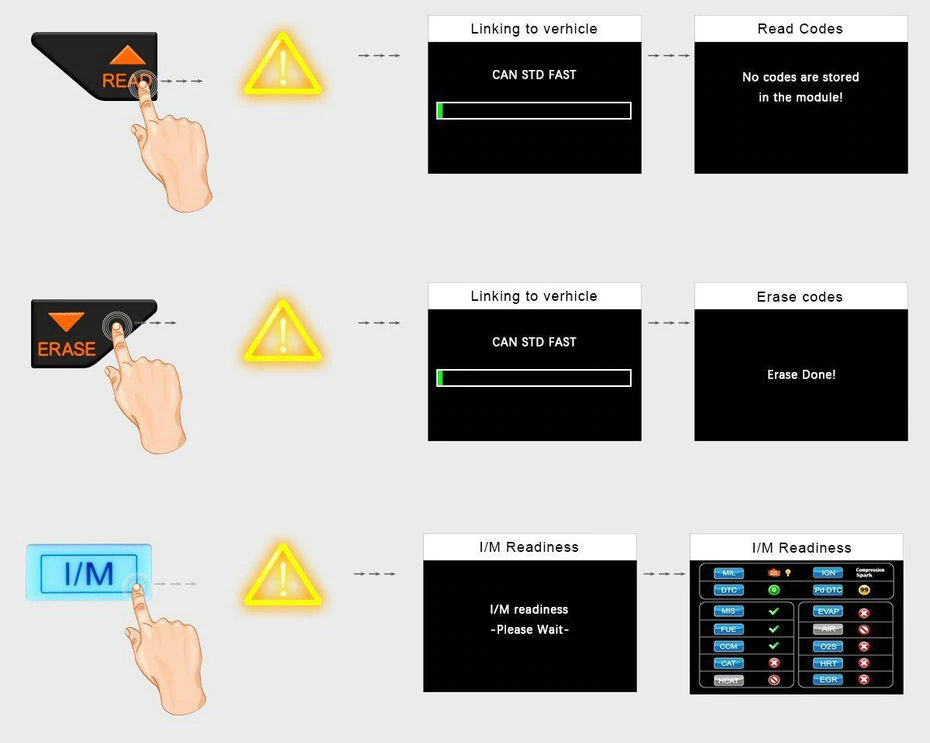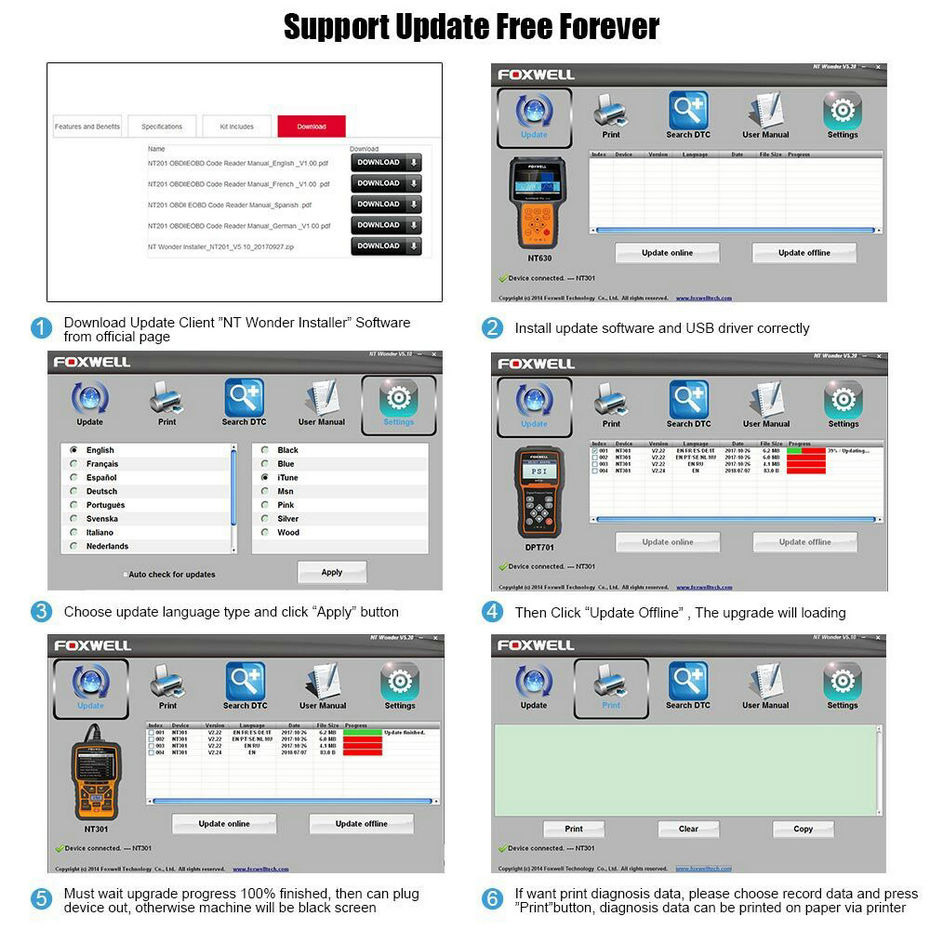 How to Use It?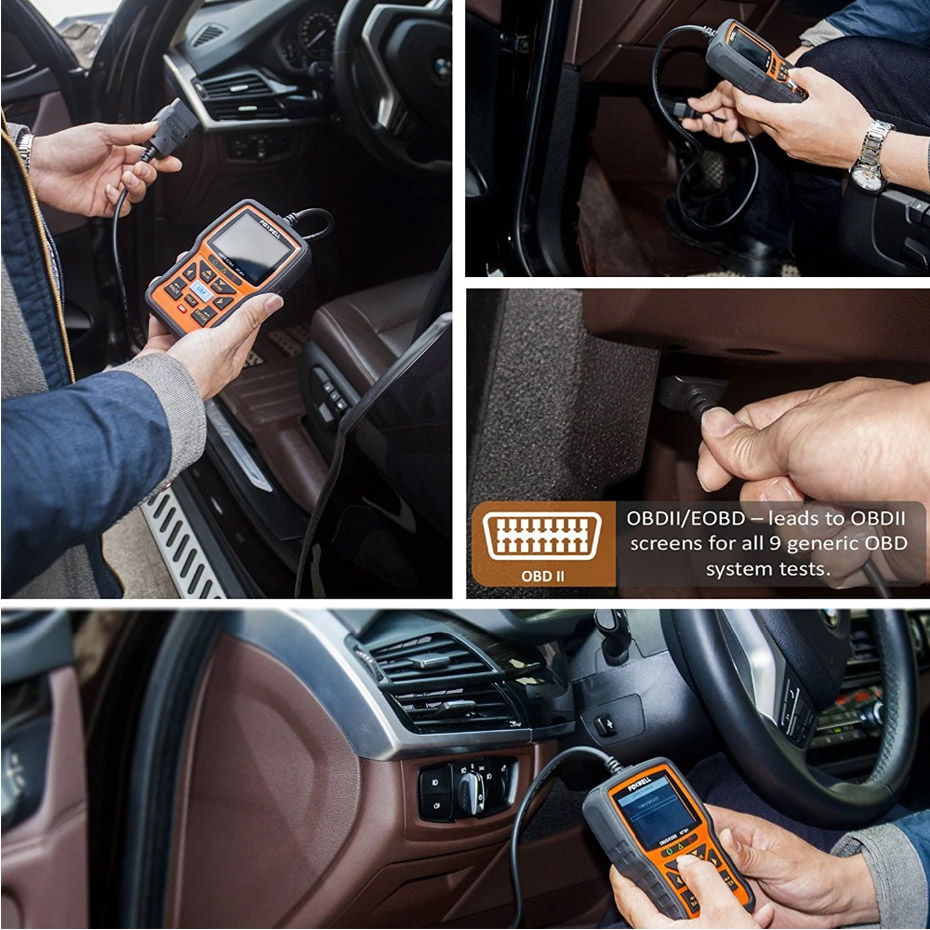 FOXWELL NT301 ODB2 diagnostic auto Support Car Models:
American (USA) car
Compatible with 12V Standard OBD2 Cars from 2001 to Now:
for Chrysler, for Ford, for GM, for Jeep
European car
Compatible with 12V Standard OBD2 Cars from 2004 to Now:
for Alfa Romeo, for SAAB, for Acura, for Opel, for Audi, for Seat, for Bentley, for Skoda, for Daewoo, for Benz, for Daihatsu, for Land Rover, for BMW, for Vauxhall, for Volvo, for Fiat, for VW, for Ford, for Jaguar
France Car ​
Compatible with 12V Standard OBD2 Cars from 2006 to Now:
for Peugeot, for Citroen,
Not Support for All Renault vehicles
as:Not Support for Renault Clio 2/Megane/Dacia Logan / .etc
Japanese car
Compatible with 12V Standard OBD2 Cars from 2007 to Now:
for KIA, for Isuzu, for Honda , for Mitsubishi, for Hyundai, for Dacia, for Lexus , for Mazda, for Nissan, for Subaru, for Suzuki, for Toyota
Chinese car:
Compatible with 12V Standard OBD2 Cars from 2011 to Now:
for BYD, for Chery, for Geely, for Great Wall, for Karry
NOTE:
Even though it compatible with most cars, but different regions support the vehicle OBD2 protocol at different times, or some car is a special design, so it may not compatible with some cars which do not support OBD2 protocol. Especially the Japanese and Korean car brand.
Please leave us a message in the below format, we will reply to you on working time.
for example : xx, 2005, 2.0cc, Diesel
Warning:
Not Support Russian Cars VAZ, UAZ, LADA; Not works with trucks
​ Not Support for All Renault vehicles
For Ssangyong Actyon, from 2009 to 2017 years.
For Ssangyong Korando, 2.0 TD Diesel, from 2013 to 2017 years.
For Ssangyong Kyron, 2.0 Diesel, from 2010 to 2017 years.
For Ssangyong Rexton, 2011 to 2017 years,